Moving with the military is never a fun process, unless you're watching "Moving with the Military," the Fort Hood-based home improvement show created, produced and hosted by a local Army spouse. Showing military families doing amazing things, it's a bit of a reality TV, mixed with a documentary, mixed with a home improvement show. 
After spending years as a television producer, Maria Reed gave it all up to focus her attention on her husband's military career and creating a family. After raising their two children through four permanent change of station moves and five deployments, she was itching to find her new career, while also considering the military lifestyle.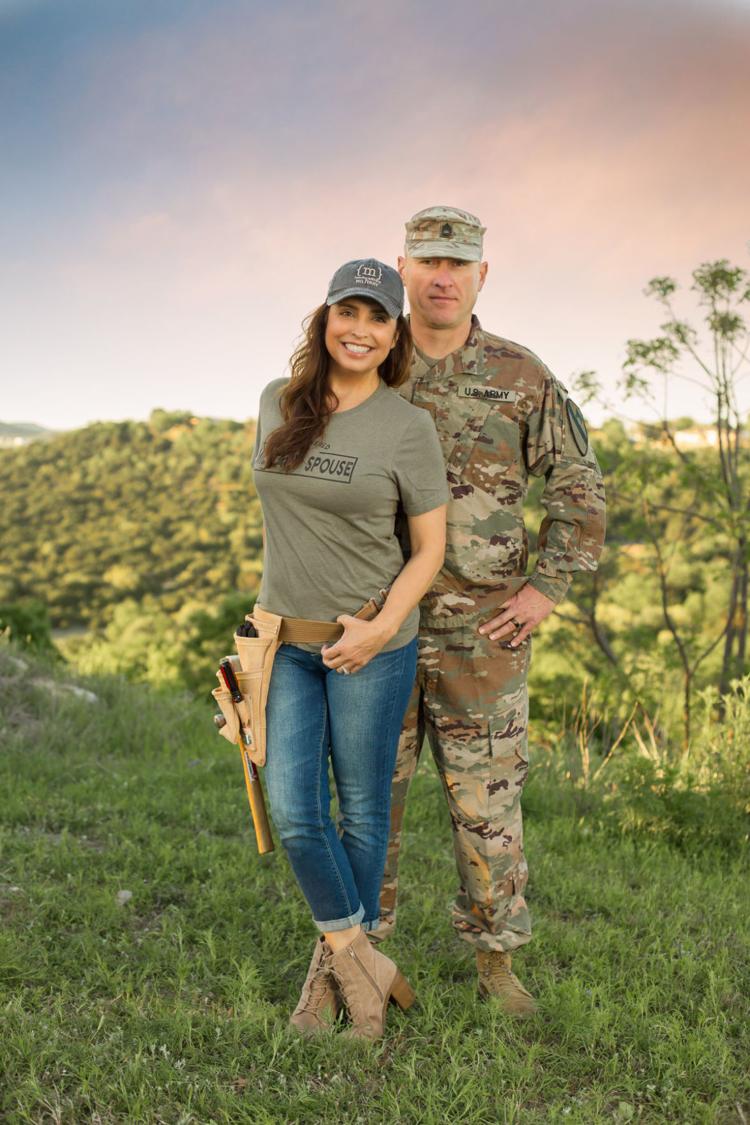 "I felt like I really wanted to do something that I could create while putting in things I'm passionate about – I'm passionate about military families, I'm passionate about making a home in this lifestyle and I'm passionate about storytelling," Maria said. "I felt audacious enough to say I'm going to defy the odds and make a television series … with no money, no crew and no big production."
Recalling her moment of epiphany, Maria said she was watching home improvement shows in 2016 and wondered why the military specials were always some tragic life event. What about some of the great things about military life? What about all the military families who spend countless hours volunteering? She decided to combine her passions into telling the story of military families.
"We want to share the stories of military families," Maria said. "The home improvement, to me, is just the bonus. What we're really doing is developing and creating community and connection – bridging that gab between military and civilian. People who volunteer with us are civilian, military and we have to work together. We work together with a common purpose, a common mission."
Excited about her new journey, Maria spent the next several days developing the business plan and building her website, then took it to her husband and said, "Look, this is amazing!"
"'That's awesome,'" she recalled her husband saying. "'I'm deploying in 30 days.'"
Maria is married to Sgt. 1st Class Patrick Reed, a cavalry scout with 6th Squadron, 9th Cavalry Regt., 1st Cav. Division, who she said taught her a lot of about how to use different tools and equipment.
"People watch for him – he's the beauty," Maria said. "I say he's the eye candy. I'm just the comedic relief."
She may be the comedic relief, but she certainly isn't afraid to roll up her sleeves and work hard, along with a host of volunteers who help pull off the renovations. With her husband deployed during the first year of "Moving with the Military," Maria said she found creative people and inspired them to join her on the mission.
"We did it on kind of a prayer that it would work," she said. "We took it to the networks thinking they would love it, because who doesn't love supporting military families? We were met with, 'No, no thanks. You're too small and nobody's going to be interested in a show dedicated to sharing the stories of military families."
Instead of becoming discouraged by rejection, Maria said it fueled her passion even more. Less than a year after her epiphany, six episodes of "Moving with the Military" were already completed. Since then, Maria has helped dozens of military families all across the country by providing free room renovations, while also changing what a home improvement show is all about. Instead of simply filming a show, they film do-it-yourself videos for the viewers, inspiring them to step outside of their comfort zones and try to refurbish, build, create and inspire.
After filming a few DIY videos, Maria said they began receiving feedback from military spouses all over the world, thanking her for making them feel connected. While her husband taught her some skills, others she learned by watching YouTube tutorials and good old fashioned trial and error.
"You never fail. All you do is figure out a way not to do it, then you'll figure out a way to do it," she said. "The failure is not trying."
Maria said she wants to inspire military spouses to step outside their comfort zones and learn a new skill because while the Soldier is deployed; someone has to do the work when things start breaking around the house … and they always do during deployments. Instead of wasting money on a professional, DIY.
"We teach them some skill sets to empower them to believe in themselves and go 'OK, I can do that, I can learn that,'" she said. "Yeah, you're building a thing, a piece of home décor, but what we're really building is who you are."
While teaching and empowering military spouses, she is also teaching and empowering her own teenage children. Admitting that teenagers aren't always happy about the hard work, she knows that it's important for them to one day be budget-conscious adults who know how to work hard, while also helping others.
"I love that our kids are very much involved – not only in the DIY, but also the production side," she said. "This is building resiliency and building character. I think we're raising strong, resilient kids who are also compassionate."
Patrick agreed, saying they not only have the opportunity to spend time together, but they also enjoy helping others.
"I just have fun with it and enjoy what we're doing to help families out," Patrick said. "I'm a product of the military and we spend time together as a family, but these are things we can get everybody involved, especially the home makeovers."
The little show that could now has an avid fanbase, with viewers on YouTube, Facebook and Farm & Ranch TV, where they reach 4.5 million viewers per episode, all while telling the stories of military families.
Patrick and Maria are currently helping to inspire other military children. While students are out for spring break, they have been creating science and crafts tutorials daily, motivating children to try something while at home with their parents. The Spring Break DIY begins at 10 a.m. daily on the "Moving with the Military" Facebook page, https://www.facebook.com/movingwiththemilitary.
Within the last few months, Caliber Home Loans began sponsoring "Moving with the Military," allowing them to extend their reach to more military families. With Patrick recently returning home from overseas, the couple will also soon resume their weekly Date-Night DIYs, at 7 p.m. Thursdays.
For more information about "Moving with the Military" or to nominate a deserving military family for a room renovation, visit https://www.movingwiththemilitary.tv or email Maria at maria@bigwiththemiilitary.tv.