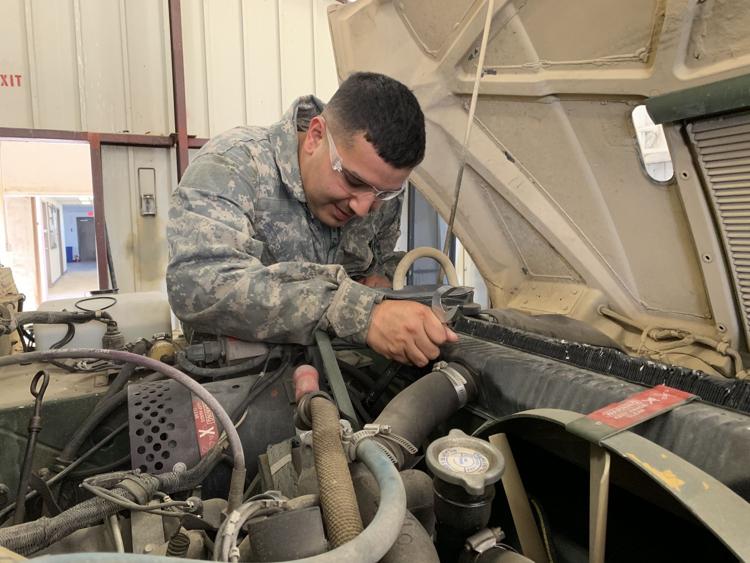 Army units around the world are comprised of specific military occupational specialties. These MOSs make-up the majority of any unit. Whether the unit focuses on sustainment, logistics, military intelligence or ordnance, the often forgotten contributors are the Soldiers who support these units. Without these Soldiers leading the way, these units would be unable to perform their core missions of sustaining and maintaining the warfighter.
When it comes to these MOSs, there are few more important than the ones involving the Soldiers who work day-in and day-out maintaining the vehicles and equipment that are crucial to every unit's success or failure.
Spc. Javier Long is a 91B wheel mechanic with Headquarters and Headquarters Company, 13th Sustainment Command. He has been in the Army for a little over two years and brought his mechanical familiarity with him.
"I used to have some older vehicles that would break down and I would fix them," Long said. "That's how I knew I would be able to do it in the military too."
While he was working for a mattress delivery company, the Corpus Christi native, was involved in a car accident that made him reevaluate where he was in life.
"I felt like I needed to do something more with my life especially with a baby on the way," Long said.
Long knew he wanted to make a change and his wife Jessica helped him decide on his new career path.
"She was a real big influence for me," Long said. "She brought up the Army as an impactful way for me to turn my life around."
After entering the Army as a private, Long has now achieved the rank of specialist, but he definitely has his sights set on advancing further in the ranks.
"I am studying to go to the board and then I will attend Basic Leader Course," Long explained. "I am getting corporal soon and will continue working towards getting sergeant."
So far, both the Army and ordnance life have kept Long on his toes and he is supported by his family throughout it all.
"My family thinks it's a great thing for me being in the military," Long said. "They see what it does for me and my own family, and they would like to see me stay in for 20 years."
Long has a strong family support system, but his Army family also has his back.
"I never understood what they meant by the Army being a family until I got here and worked with these guys," Long explained. "We are all like brothers and have gotten so close."
Although his job has some long days, he enjoys what he does and sees the big picture.
"Having the vehicles and generators up and running and knowing we can help out other units is a big accomplishment to me," Long said.
Long has been a stellar Soldier and the leadership around him recognizes the hard work and dedication he displays daily.
"Spc. Long is a fantastic Soldier," Staff Sgt. Laine Hoff, motor sergeant, HHC, 13th ESC, said. "He is one of those Soldiers who you don't need to tell what to do because he already knows what to do. He is always striving to make himself better and is already showing his leadership capabilities. He will make an outstanding NCO."